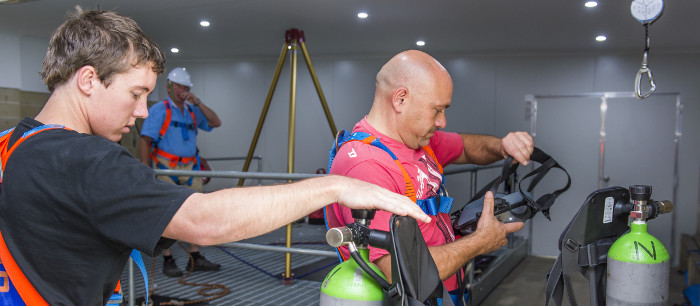 Breathing Apparatus Training SCBA - Course Dates
Breathing Apparatus Training SCBA
Sydney Safety Training conducts breathing apparatus training for staff in the workplace who may be exposed to atmospheric hazards.  These respiratory hazards may occur due to atmospheric contaminents or oxygen deficiency. The main concern with this type of hazard is that it may be invisible, it may have no odour or taste giving warning of its presence, or it could attack the sense of smell giving the false sense of security that it has left the environment.  Obviously training in gas detection would also be critical.
You can combine this training with gas detection training, which occurs on the same day.  click here for the combined course  
The types of breathing equipment covered in this course to address the above hazards are:
Filtration – filters and canister type filter respirators
Compressed Air Escape Equipment – designed for short duration escape
Self Contained Breathing Apparatus (SCBA) – compressed air supplied breathing apparatus worn by the user
Airline Systems – compressed air supplied equipment usually used for long duration work via an air line
Rebreather – this is a recycled system that eliminates CO2 and adds back O2 designed for long escape
The practical training in this course is centred around the use of SCBA.  At the end of the training all participants will be able to:
Be capable of explaining the basic principles of breathing apparatus operation
Be capable of calculating the expected duration of breathing equipment
Be capable of carrying out pre-use and post-use tests to ensure the safe of operation of equipment
Be capable of identifying emergency procedures to be adopted when compressed air apparatus is to be used in possible contaminated environments.
Be capable of using breathing equipment of your site in work and rescue situations that you may be exposed to
This training will require you to participate in physical practical exercises. Ensure you are fully aware of the risks prior to participating and understand the control measures employed.
Upon successful completion of the training, participants will be issued with a national accreditation in the competency:
MSMWHS216     Operate breathing apparatus
Please print off your Breathing Apparatus pre course reading notes here BA Pre Course Notes
Issued through RTO Safety Training,  RTO #40992
This training can earn participants Continuing Professional Development points (CPD).  For more details click here
Your breathing apparatus training will have you do the following, plus work in a breathing system.  It could be an MSA System or a Scott.
Your training if required will include the use of Airline/Escape System.  Please advise when booking this training if you use airline systems.
Training Dates
Onsite Training available, please call 02 9892 3370 to discuss your requirements.
Enrol at top of this page on available dates.    If you have a group of people requiring this training, we can set up a specific training time for you, either at our site or yours. We provide all the training materials and equipment.  If  you have SCBA onsite, it would be beneficial if your attending staff could bring it along so we can train them on that unit.  We will supply all the air cylinders for training.
Course fee is $265.00pp
Course Paperwork
Breathing apparatus manual
BA check list
PARTICIPANTS MUST BE ABLE TO COMMUNICATE IN ENGLISH, AND MUST BE ABLE TO FILL OUT ALL NECESSARY DOCUMENTATION.  We can train people where English is an issue, but it needs to be on a specially scheduled programme and YOU WILL NEED TO provide an interpreter..