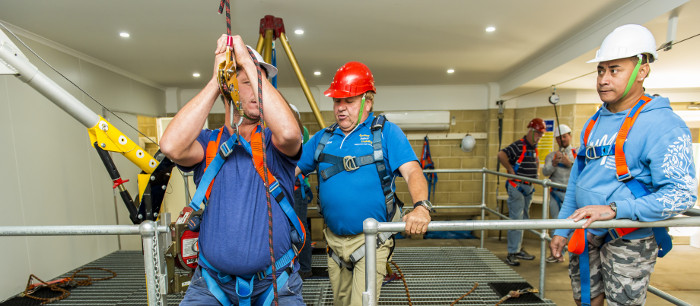 Height Safety Awareness Training - 4 Hours - Course Dates
Height Safety Awareness Training – 4 Hours
THIS FOUR HOUR FACE TO FACE COURSE IS CONDUCTED EVERY TUESDAY & THURSDAY MORNING FROM 7:30AM TO 12md
This course is designed for managers and supervisors who are not required to work at height, but who are responsible for employees & contractors working at heights on your site.  If an employer has personnel working where they can fall from one to level to another, and there is a risk of injury, provision is to be made to prevent falls, appropriate equipment is to be made available and appropriate training is to be given.   Please make yourself aware  of the National Workplace Health and Safety Act, and in particular the National Code Of Practice for "Managing the Risks of Falls at the Workplace.  Managing_the_Risk_of_Falls_at_Workplaces
The course is a classroom session that covers:
Regulatory requirements
Risk Assessment & Hierarchy of Controls
When Fall Prevention is Required
Alternate Means of Accessing Heights
Height Safety Equipment
Safe Anchoring
Pre & Post Operational Checks
Equipment Maintenance
Rescue Requirements
This is a four hour session that commences at 7:30am, and is fact the first four hours of the Safe Working @ Heights Course.
Course Dates
Our safe work @ heights awareness course starts at 7:30am every Tuesday & Thursday morning at our Villawood Training Centre.  The training hours for the day are from 7:30am to 12md.
Training at our site means you can send staff along for public programmes at times suitable to your work commitments. You can send up to ten staff, but for these numbers we would also arrange special dates/times for your group.
If you require onsite training, we can book dates and times to suit you. We take up to ten staff on this course.
The following fee structure applies to our Safe Working @ Heights Awareness training course.   
Public Course Bookings at Villawood
*  $200  incl GST per person
*  Group discount applies to 6 or more staff attending.  Price is then fixed at $1300 + GST  for up to
ten staff at our facility
Onsite Course Bookings
*  This training is conducted at a cost of $1650 + GST  for up to ten staff at your site
*  Travel to/from site  is $85.00 + GST per hour
*  Airfares at cost if not organised by client
*  Accommodation if not supplied by client is billed at $165.00 + GST country sites, and $185.00 + GST for
city sites
PARTICIPANTS MUST BE ABLE TO COMMUNICATE IN ENGLISH, AND MUST BE ABLE TO FILL OUT ALL NECESSARY DOCUMENTATION.  We can train people where English is an issue, but it needs to be on a specially scheduled programme and YOU WILL NEED TO provide an interpreter..