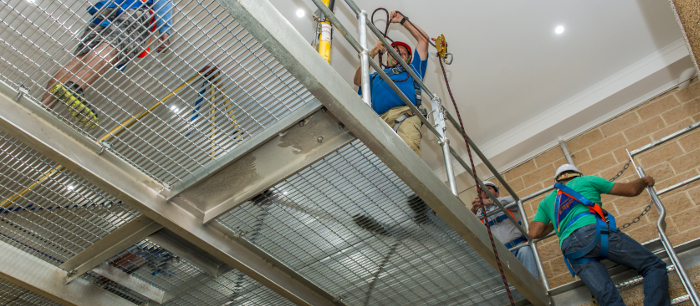 Heights Rescue Operator - 1 Day - Course Dates
Heights Rescue Operator – 1 Day
A person conducting a business or undertaking who implements a fall-arrest system as a measure to control risk must establish emergency and rescue procedures
The procedures must be tested so that they are effective. Workers must be provided with suitable and adequate information, instruction and training in relation to the emergency procedures.
This one day programme is designed to complement the "Safe Work at Heights" course.  On that course you were instructed regarding the need for a rescue system, and should have either participated or observed an overhead rescue take place.  On this course we provide you with training in numerous heights rescue systems, and have you physically participate in a practical rescue scenarios using each of these systems.  By the end of the day, you will be competent to implement a heights safety rescue procedure on your work site.
Typical rescue scenarios:
EWP Self Rescue using an AUTO descender system
OVERHEAD rescue using a GOTCHA  & ROLLGLISS rescue kits
POLE TOP rescue, using a Gotcha Pole Top Rescue Kit
Having rescued a work mate, we must assume that as a result of the fall, that person has suffered an injury.  Therefore you must be able to provide first and aid and CPR at the scene.
Duration
1 Day from 7:30am – 3pm at our Villawood Training Centre
Courses commence at 0730am and you need to check in at 0720am please.
Student Ratio
1 Trainer to 6 students
Prerequisites
Current nationally accredited Safe Work at Heights certificate
Training Day
In the morning we will complete a classroom presentation detailing your responsibilities regarding heights rescue under current legislation and a thorough briefing on all of the rescue systems you will be using on the day.
Upon completion of the classroom session, the rest of the day will be spent on the training deck observing and participating in numerous rescue situations
Certificate of Attainment
Successful participants will receive a certificate of attainment and plastic card with:
PUASAR022 Participate in rescue operations
Issued through RTO Safety Training,  RTO #40992
Cost
The cost of this training is $295 GST FREE per person.
Group training rates are available upon request with a maximum group number of SIX.
 Each attendee needs to already have the pre requisites above to attend.
Please reveiw the Heights Code of Practice regarding rescue Managing-the-risk-of-falls-at-workplaces-COP
This training can earn participants Continuing Professional Development points (CPD).  For more details click here